Back to All Thought Leadership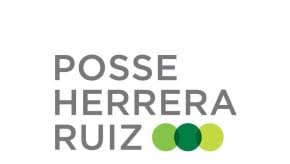 They are Natalia Escobar, Cristina Vásquez, Mariana Sánchez and Jaime Enrique Gómez, who have successfully developed their careers at the Firm and in the legal sector.
Posse Herrera Ruiz is proud to announce four new partners in the areas of Financial Law and Capital Markets, Infrastructure, Natural Resources, and Tax. These appointments ratify the strength and growth of the Firm, which will keep on facing the challenges and opportunities with innovation and a strategic vision that translate into value solutions for clients and allies.
Their human qualities and professional skills stand out, as attested by their successful careers within the Firm and the Colombian and international legal sector. "We are prepared for the challenges that 2022 presents us with leadership, experience and the most competitive talent. Therefore, we celebrate these four appointments that represent our spirit of excellence" says Jaime Herrera, partner of Posse Herrera Ruiz.
Profiles of the new partners:
With two decades of experience, Natalia Escobar began as an associate at Posse Herrera Ruiz and then moved on to several industries and sectors in Colombia, the United States and Europe, highlighting her experience as Deputy for Insurers and Insurance and Reinsurance Intermediaries at the Financial Superintendence of Colombia and Senior Policy Advisor for implementation and evaluation at the International Association of Insurance Supervisors in Basel, Switzerland. She has a J.D. from the Pontificia Universidad Javeriana, a Master's degree in International Business Law from the University of Tilburg in the Netherlands and a Master's degree in Business Administration, Finance and Entrepreneurship from the University of Rochester-Simon Business School in the United States. Natalia joins as a partner in our Banking and capital Markets practice area.
Cristina Vásquez, new partner in the Infrastructure and Public Law practice, has over 20 years of experience and a track record in infrastructure projects. She has worked in public and private bidding processes in companies such as Ferrovías and Construcciones El Cóndor, where she was Company Secretary, and, since 2020, she has been working as director in the infrastructure area at Posse Herrera Ruiz. She has a J.D. and postgraduate degree in Administrative Law from the Universidad Pontificia Bolivariana.
Thanks to her extensive knowledge, Mariana Sánchez has worked in national and international law firms as well as in the legal department of Winchester Oil and Gas S.A. and Petrocolombia; she worked as the Legal Director of the Trafigura Group in Colombia and was responsible for the company's legal affairs in matters related to ports, transportation, environment, construction, land, mining, and product marketing. Mariana worked at Posse Herrera Ruiz between 2007 and 2011, and since her return in 2017, she has been part of the Natural Resources and Energy area at the firm. Mariana has a J.D. from Universidad del Rosario and a Master of Laws degree from Universidad de los Andes.
Jaime Enrique Gómez, new partner in our Tax practice,  joined the Firm in 2009 and since then has accumulated extensive experience in the structuring and tax planning of mergers, acquisitions, and other projects. Jaime has been a director of the Tax area at Posse Herrera Ruiz since 2020. Jaime has a J.D. from Universidad del Rosario with a postgraduate degree in Tax Law, Customs Law and Foreign Trade from the same University, and a Master's Degree in Taxation from Georgetown University.
With these four appointments, Posse Herrera Ruiz has a team of 24 partners. Appoints
Media relationships: Camilo Duran camilo.duran@phrlegal.com